Notes kitesurf trip in Sardinia
Typically my kite gear is the most important part of my luggage when travelling to Sardinia. As usual, upon arrival, I still don't have a clue where in Sardinia I will end up this year.
I like the idea of discovering the Wild West of Sardinia. But will the wind conditions be good to kite there this time? Mostly Mistral is working on the West coast. I'm looking forward to finding the exceptions, together withfortress en route to Stintino the less-known spots.
Like never before I am in a mood to draw every moment of this trip, somewhere in no man's land, in the middle of past and future. Sardinia is exactly the right place for such an adventure. More contemporary is not possible. On the first night, I don't feel like sleeping within four walls and I choose to sleep on the balcony. A night spent under the stars.
In the morning I wake up with a breeze around my nose and the buzz of the Sardinian neighbourhood. Taking in breaths of the upcoming wind, I can't wait to get down to some kiting. And yes – the wind conditions point towards the West.
Kitesurfing the Southwest of Sardinia
he wind is luring me to Sardinia's south-west – a corner of Sardinia which is going to elate me as a kiter and lover of islands; there are even two offshore islands, Sant'Antioco and San Pietro. I am tempted to go for the road via Cagliari through the mountains – a dream for kitesurfing mountain enthusiasts – and via the quaint mountain village Teulada.
Kitesurfing Porto Pino
In habitual manner, I'm driving my way along the coast. The road leads me between two lagoons, past hosts of flamingos, to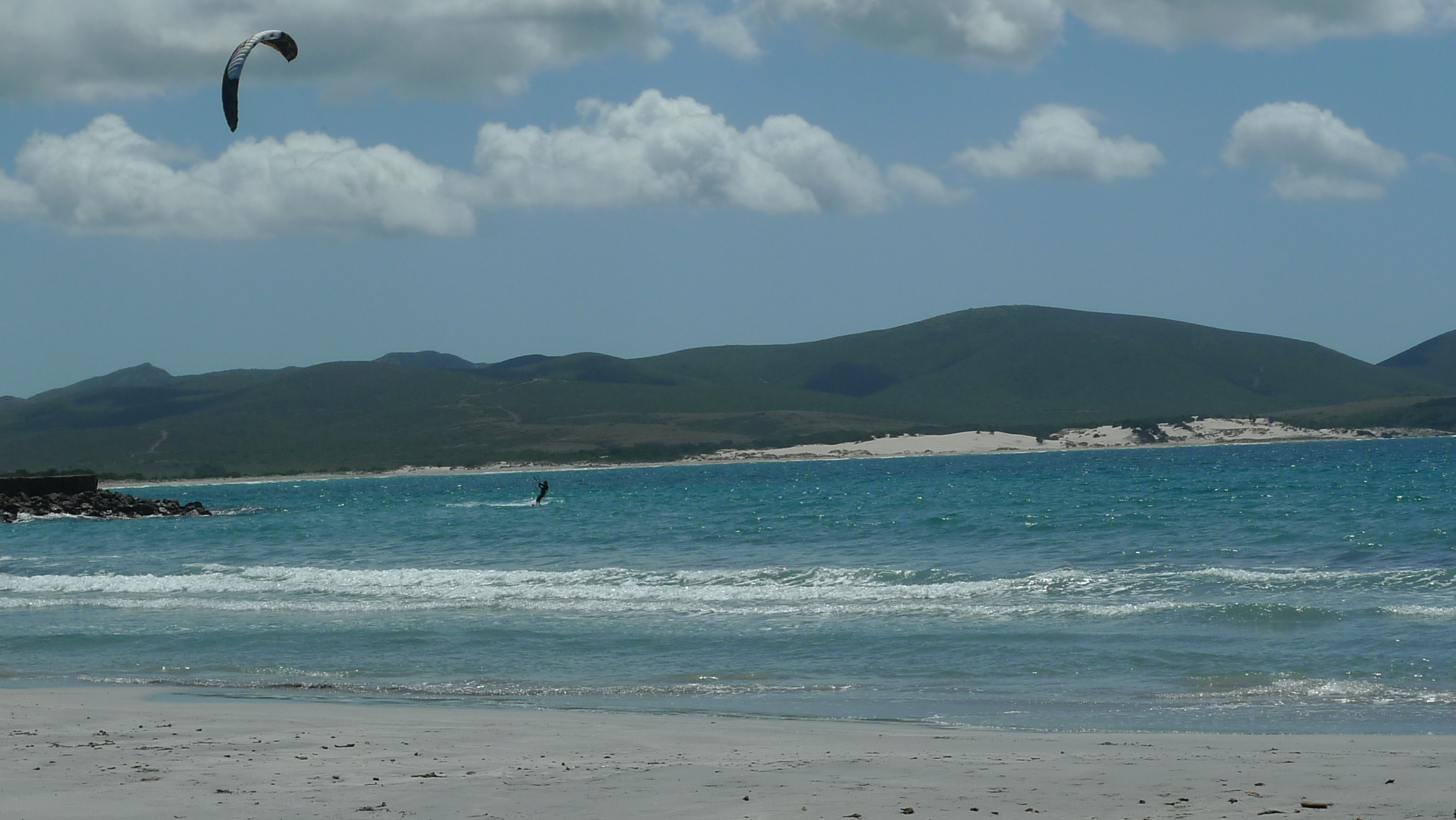 Porto Pino – a harbour hamlet that deserves its name because it is surrounded by a pine forest.
The only kiteable beach is the Caribbean style main tourist beach and located just behind the harbour. Only (!) south-westerly wind (Scirocco) is working here. All other pine-fringed paths end at a steep coastline. All routes through the lagoons in direction of the huge dunes of Porto Pino finish in front of canals in the middle of nowhere.
Further north I find a plum area for kite beginners and free-stylers. Is Solinas offers flat-water with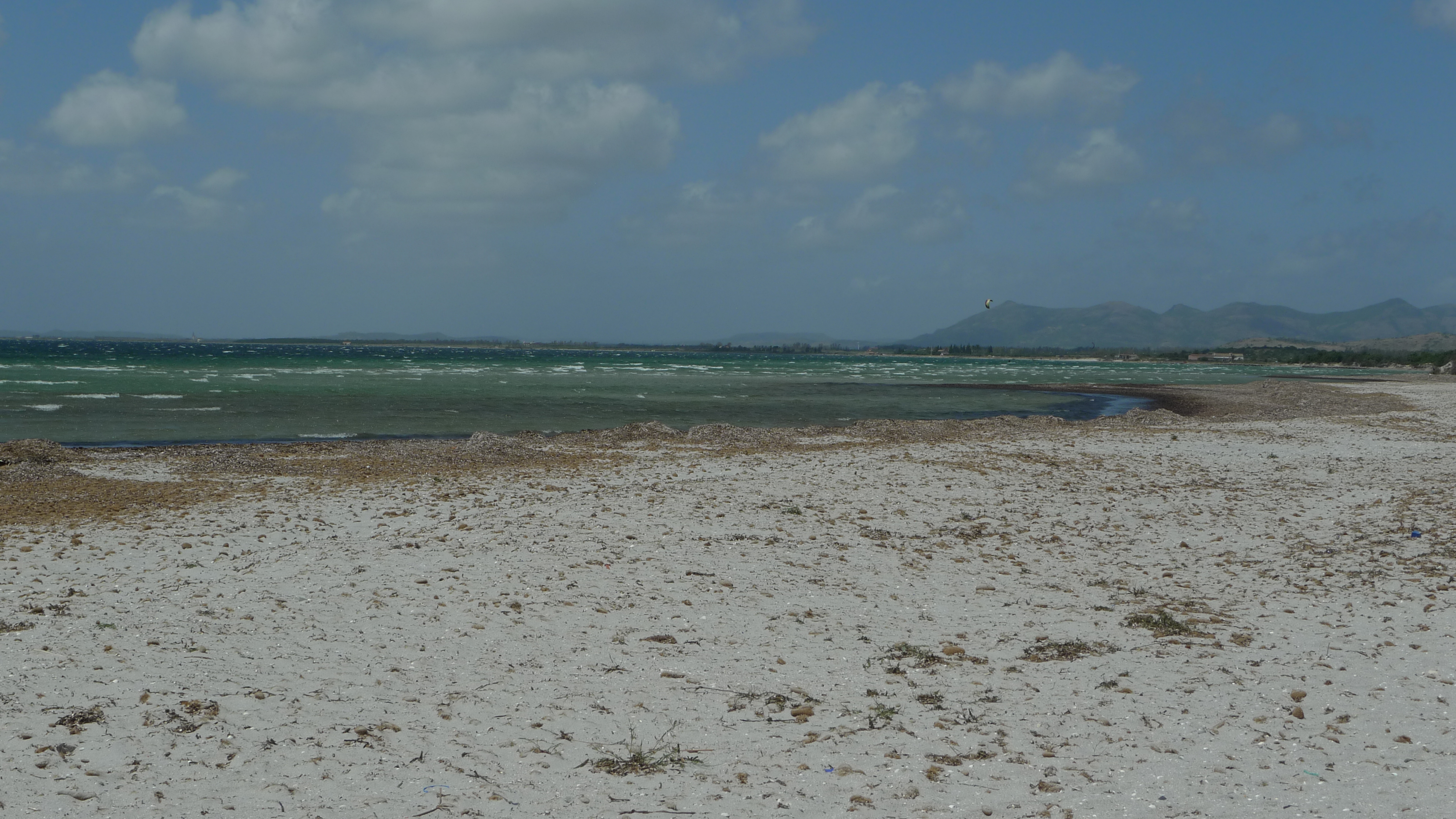 Mistral, but is besieged by beach tourists at high season; Follow the sign to Is Solinas and then direction "Le Dune". There is a car park at the end of a paved driveway from which you reach the beach over the dunes.
More adequate spots are situated around Porto Botte. At the end of the main street, where the fishing boats moor, you can choose between two kite spots; to the left hand side I reach the extension of Is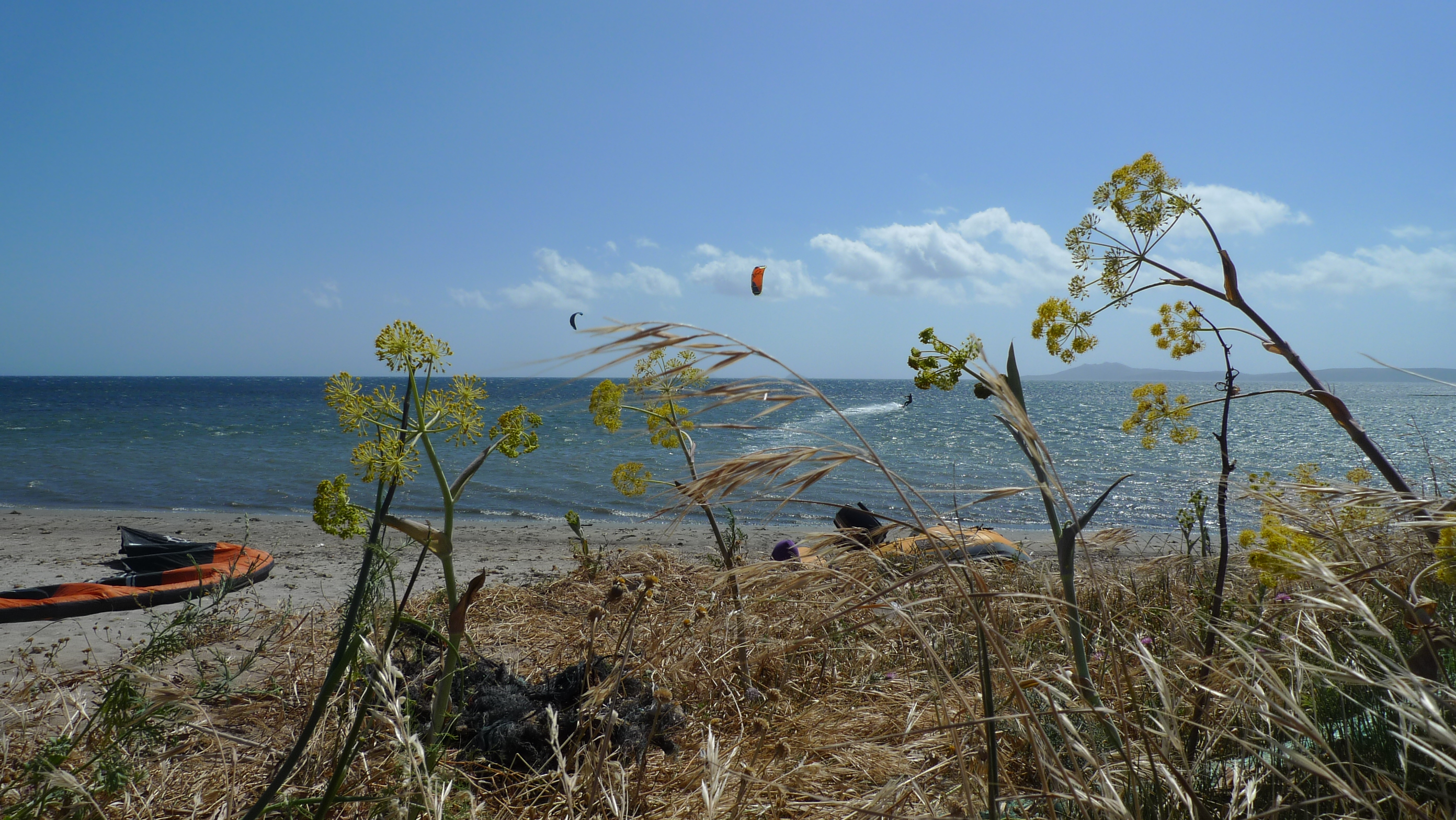 Solinas beach; to the right hand side the path through the dunes goes to a good freestyle spot – my favourite one on this journey.
A local kiter gives me a hot hint; Punta Trettu, exactly opposite of the small town Sant'Antioco, is a fantastic spot for beginners and free-stylers and is the home spot to the locals as it's not th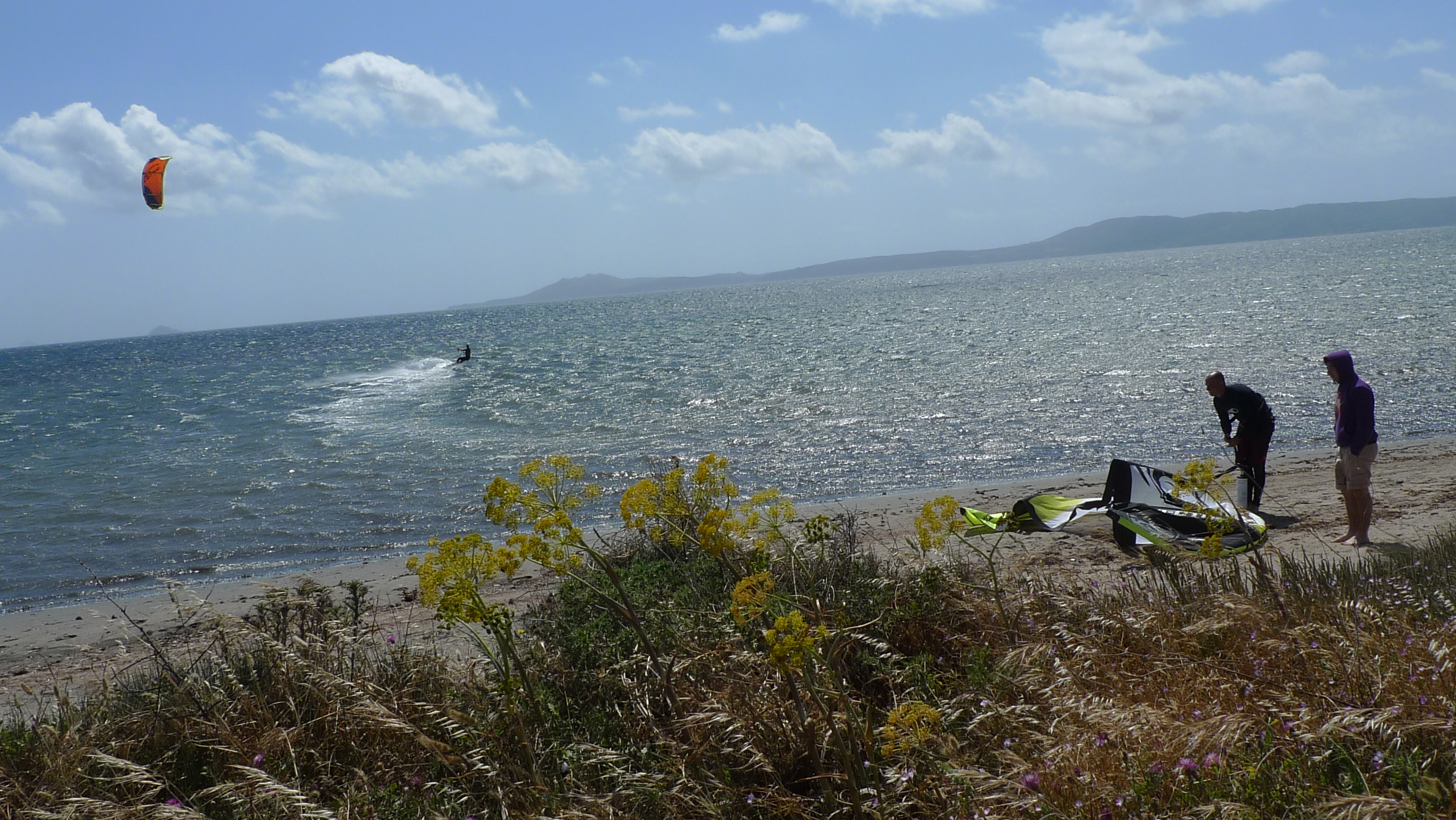 e kind of beach "normal" beach tourists would go for.
Because of the sea gate between the island and the mainland, the wind arrives roughly ten knots stronger in Porto Botte than in Punta Trettu, which is therefore well frequented on strong-wind days.
Arriving from Sant'Antioco over the bridge, turn left, direction Matzaccara, and after some kilometres again left, direction Punta Trettu. From the parking area at the end of the road, it's a good ten minutes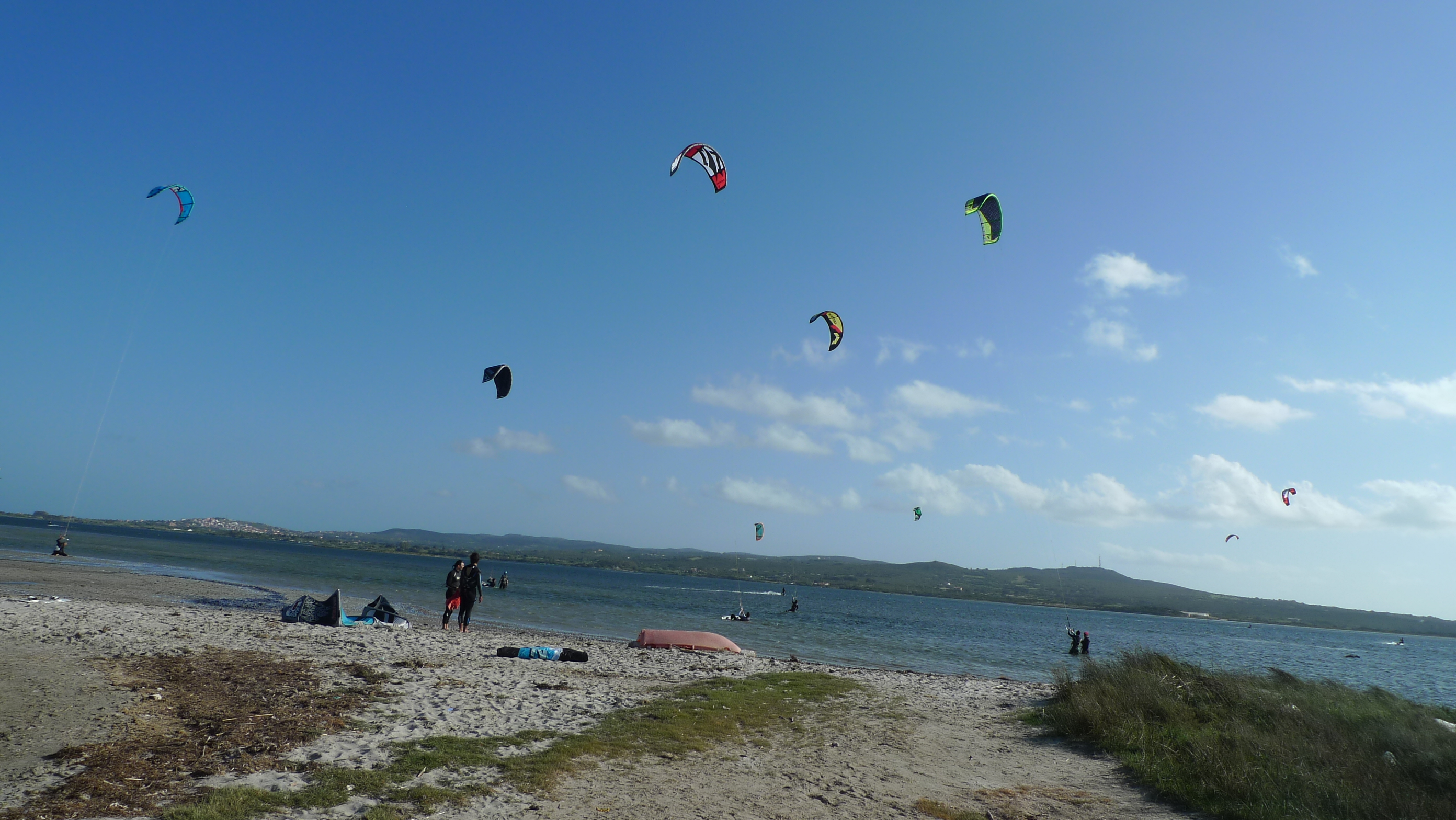 walk around the headland. Kitesurfing in Punta Trettu is possible with Mistral, but also with winds from west, south-west and south-east. Punta Trettu is very shallow, flat as a mirror and target location of potential down-winders from the north.
In Porto Botte you have more water underneath your board and potentially more chop.
Funtanamare near Gonnesa is the wave spot of the region with Mistral and south-westerly wind (Libeccio).
On Sant'Antioco island, kitesurfing is contingent during low season at Spiaggia Grande with wind from the south-west and the north and at Spiaggia di Coaquaddus with wind from the south-east and the east. You can find more information on kitesurfsardinia. Due to th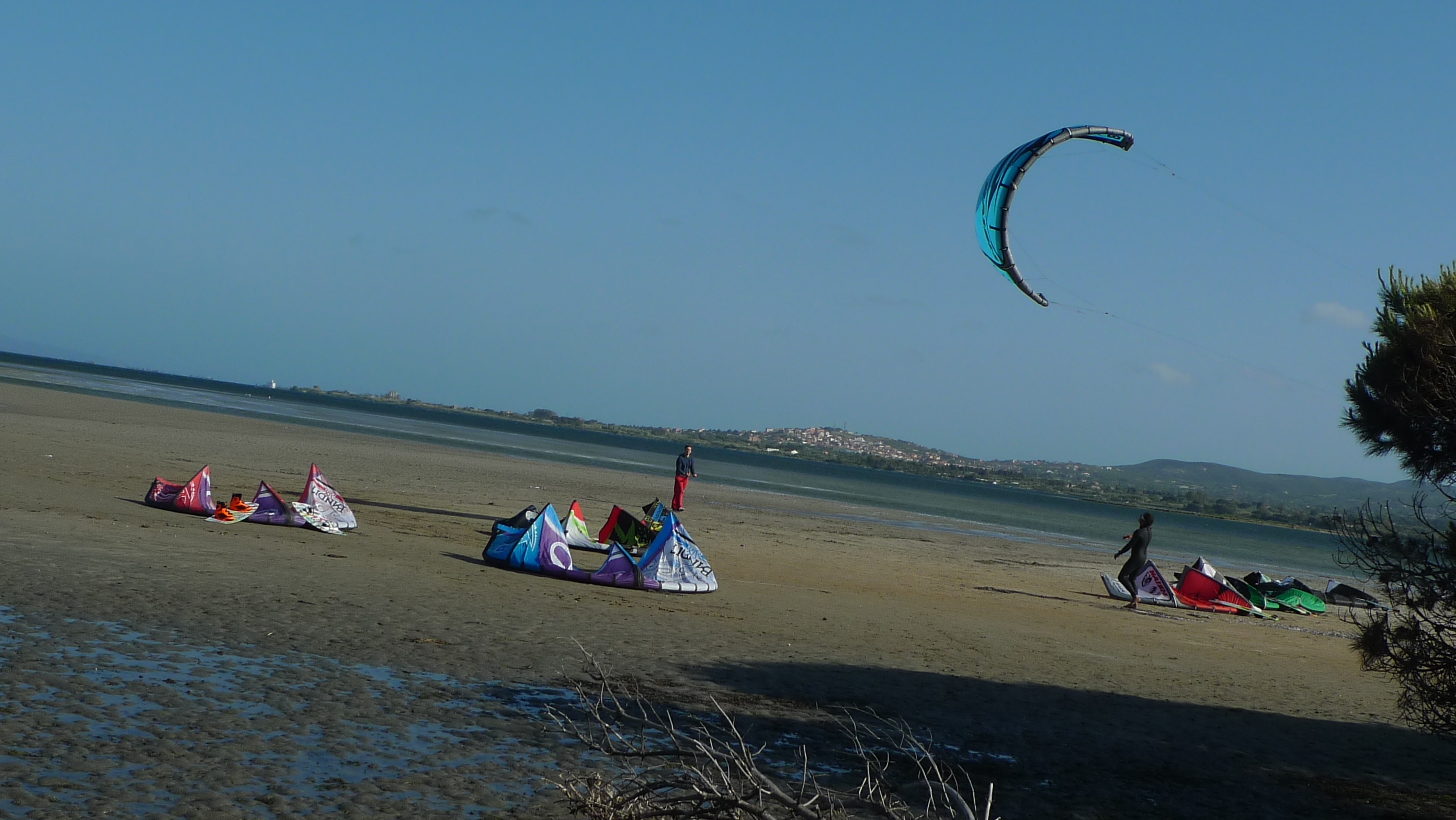 ese fantastic conditions for beginners, a few kite schools have settled in this area; e.g. kitesardegna and skyhigh. The region also offers Sardinia's only cable park for wake-boarding at Lago di Medau Zirimilis (I have written about the cable park on pecora-nera).
Kitesurfing Isola Sant'Antioco
The small town of Sant'Antioco straight at the beginning of the homonymous island is so picturesque, at the same time, it has everything you might need for living and is a perfect starting point for kiters; a scenic central square, nooks and crannies through the o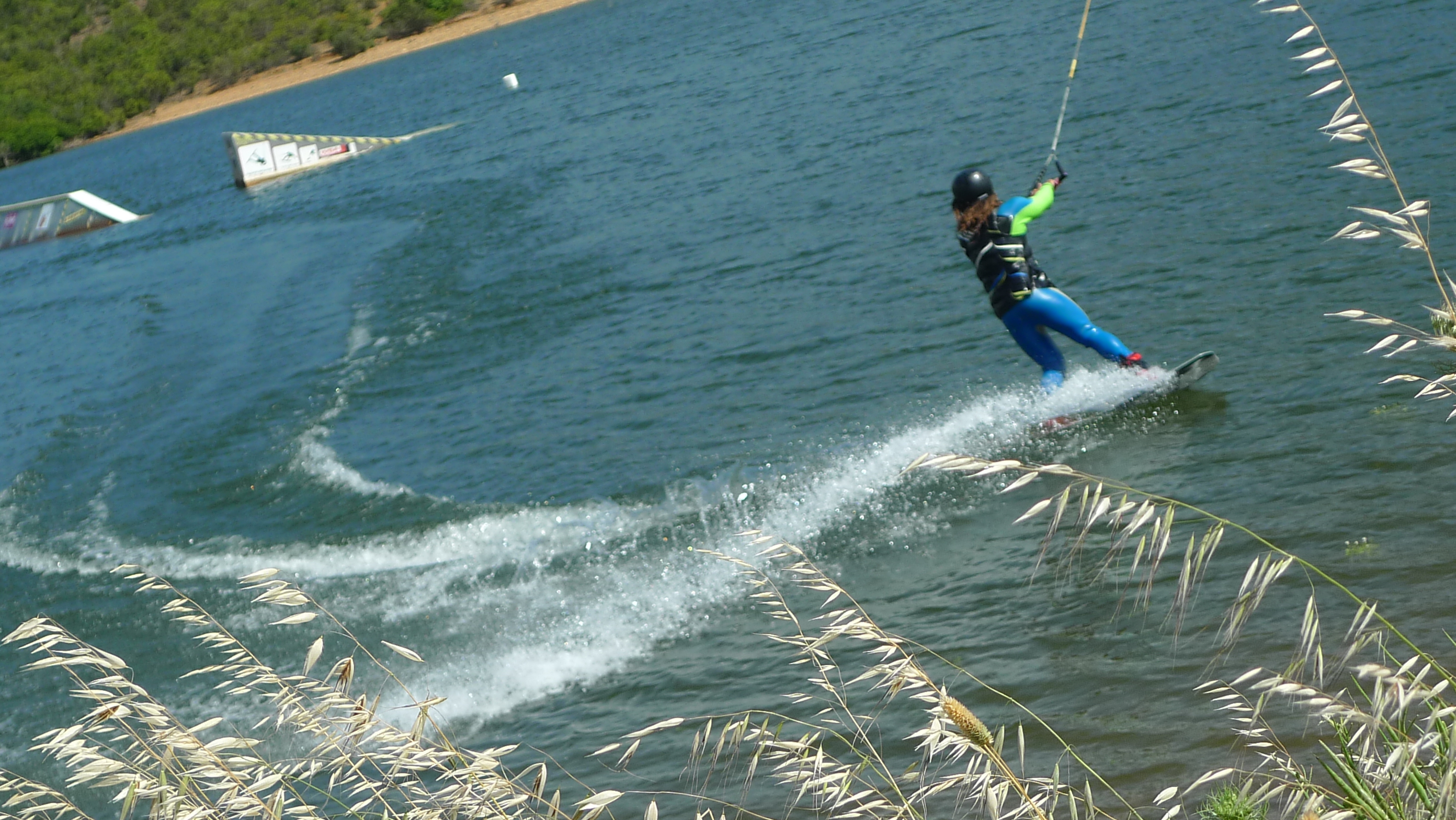 ld town and the darkest alley I've ever seen in my life, as it's completely roofed by treetops.
On my second day on a camp ground, I escape the rain and accidentally fall upon the accommodation of the young couple called Simona and Francesco, a striking team throughout a lifetime; it's actually unbelievable what these two people have built up in their lives. They put their hearts and souls into the Bed & Breakfast called "Il Nido", just on the main street of the s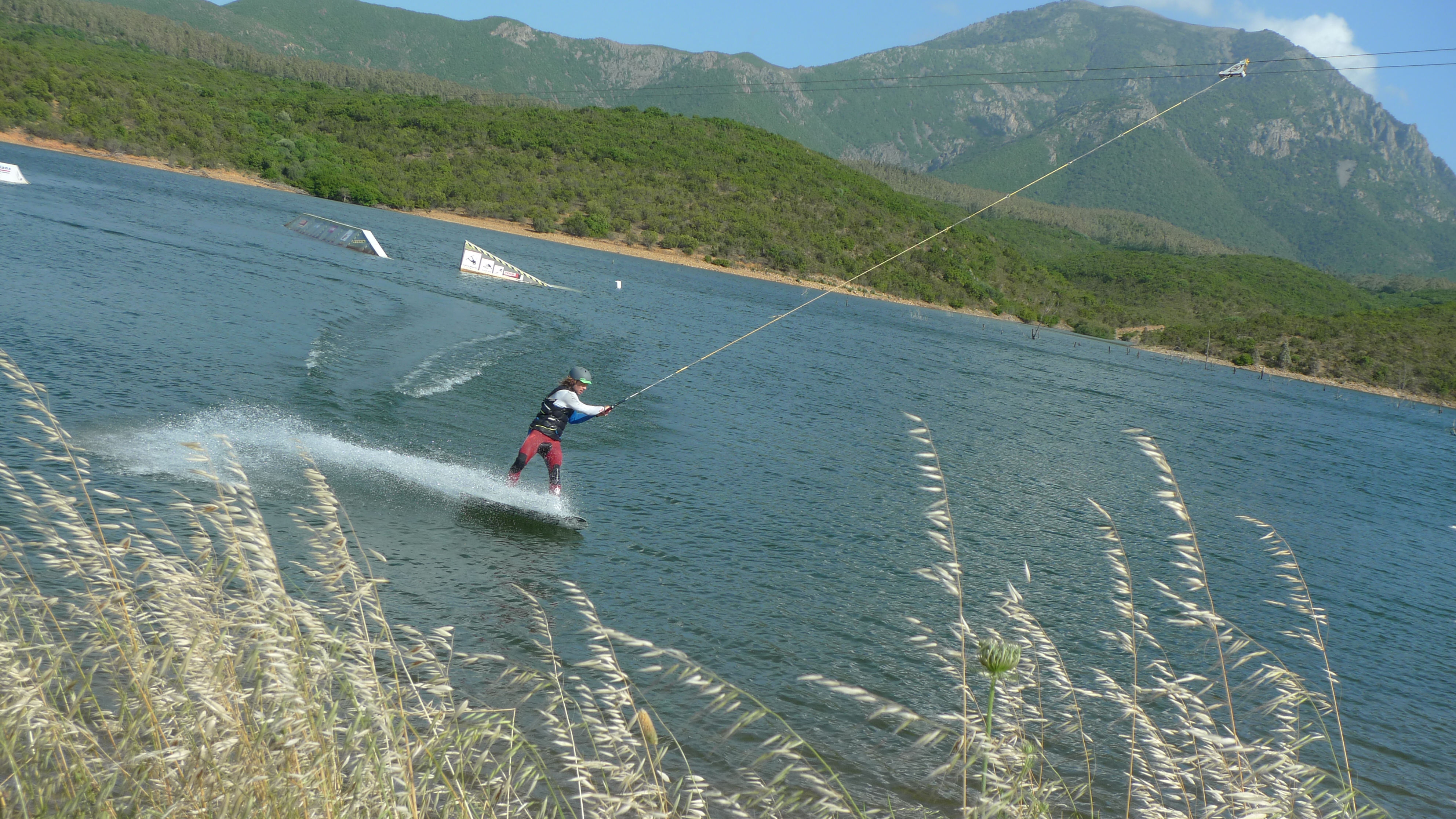 mall town but all the same both quiet and homey. The two also rent flats, manage the butchery below the B&B, have two children and Francesco has his own piece of land in the immediate back country, where he grows wine and has pigs, chicken, dogs and shortly also horses.
The island with its mere three roads in all directions, Isola San Pietro, is worthy of at least a day-trip. Car ferries regularly leave Calasetta on Sant'Antioco island to San Pietro's capital Carloforte, which I'm not wowing any less. One square unfolds after the other along the seaside promenade, with the historic centre behind. Just like another dream.
Kitesurfing Centre west of Sardinia
Even though the wind forecast doesn't look promising, I would like to have a look from a kiter's perspective at the Sinis peninsula on my way back north.
Kitesurfing Capo Mannu – Funtana Meiga – Mari Ermi – Putzu Idu 
The area is famous among kiters mainly because of its wave spot Capo Mannu, with winds from Funtana Meiga – Mare Mortowest to north-west. I'm heading for Funtana Meiga, which turns out to be a ghost town during low season. Despite wind forecasts: I'm spotting kiters!
Yet not at the sea facing coastline of well known Funtana Meiga. Surprisingly, I find best flat-water conditions in the lagoons of Stagno di Cabras and the Mare Morto in front of them. Just turn left en route to the relicts of the antique town Funtana Meiga lagoonsof "Tharros" and follow your nose, looking for paths direction lagoons and Mare Morto. There are no signs, but you can see the kites from afar. Don't let yourself stop by drive-through constraints such as rocks; tracks indicate that driving through is possible.
The locals in the restaurants on the way to Tharros Funtana Meiga lagoonsare also helpful. By the way, this is how I found my private accommodation.
A few kilometres further north I'm surprised by the most amazing beaches; the MisMari Ermitral-beach Mari Ermi / Portu Suedda, and Putzu Idu. Kiters aim for Putzu Idu with Ponente and southerly.
What can I say? Sardinia's Wild West! Never would I have Putzu Idudreamed of so many Caribbean style beaches and flat-water spots. It's not only wild and unpredictable but it is still as well, and that's what makes it so fascinating.
During that night in Funtana Meiga, when the sea was loud, the wind indecisive and the sky restless, I talked through the night with a local, who had spontaneously hosted me and knew local weather conditions as well as a local fisherman and better than any conventional forecast.
He looked up in the sky and said that the weather and wind were still about to take their decisions about the next day. Later on, he stopped half way through conversation and said: "Listen!".
We walked outside. There I was, somewhere between past and future. The sky was suddenly starlit, the wind had changed direction, the sea whispered peacefully from the opposite side. The Wild West now most irenic however still not without the wind. The Sardinian said: "This was important, one of the forerunners of summer."
Kitesurfing North-West of Sardinia
Kitesurfing Platamona
I'm driving along Sardinia's typical springtime flower scenery and I'm intrigued by one of the ancient Spanish fortress'. Swerving the car sharply onto a bushy path I'm spontaneously testing my hired panda for off-road capability.
The fortress doesn't have a name and is the centre of a panoramic scenery in the middle of a sea of blossom alongside the coast. These towers can be found in regular intervals all along the Sardinian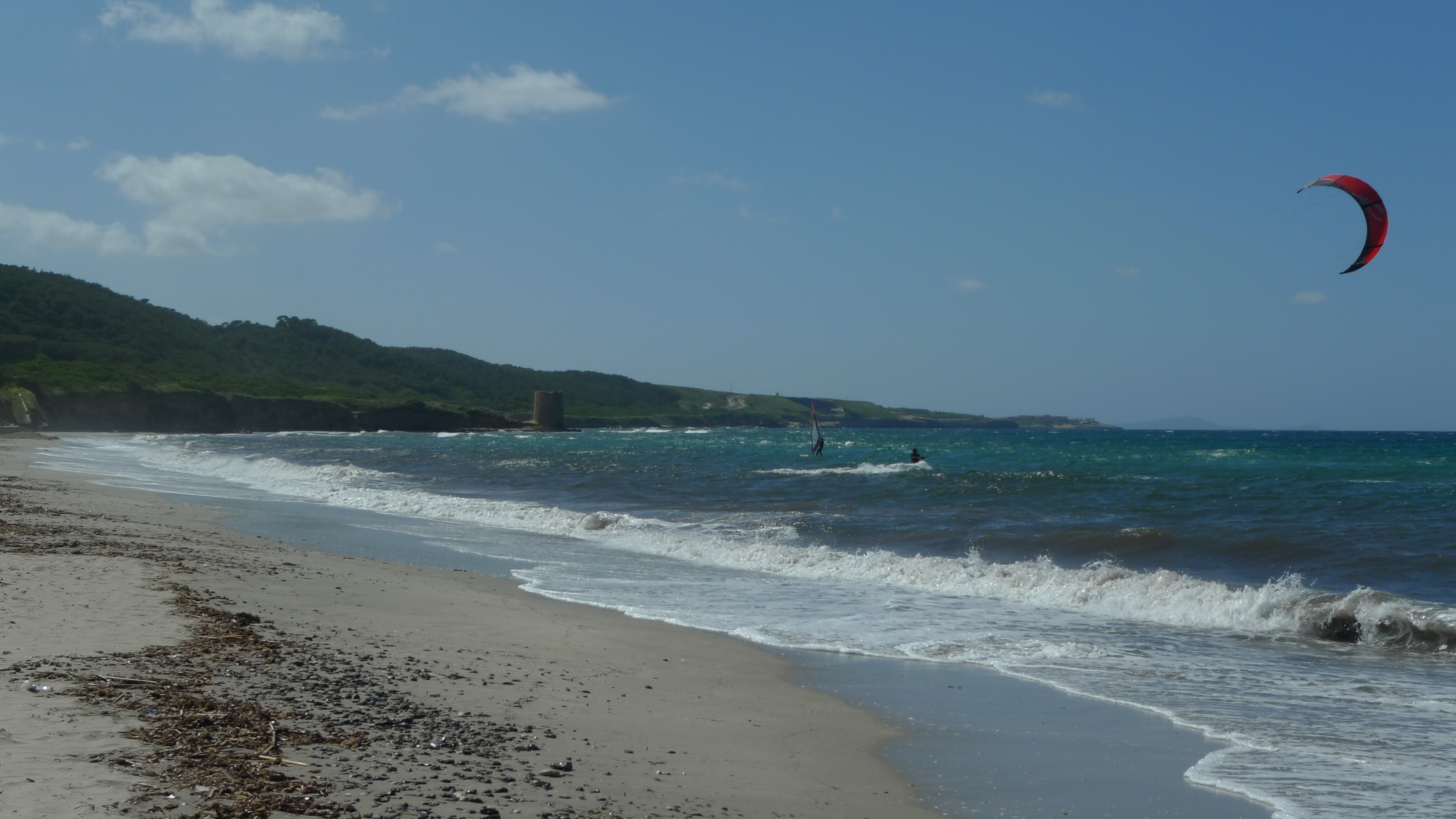 coast. They were built in the 16th century as a defense belt against the Berber folks' acts of piracy during Africa's prime-age because an army was too costly.
Believing to be in total remoteness, I see a kayak is pulling ahead. Why not just drift sometimes? A diver is discovering the underwater world in the sea directly in front of me. Why not also just dive sometimes?
As a matter of fact, the defense tower is located next to the wave spot Platamona where kitesurfing is possible only with wind from north-west (Mistral) and is allowed only during low season. In the summer, Platamona is called "Sardinia's Rimini", the home to partygo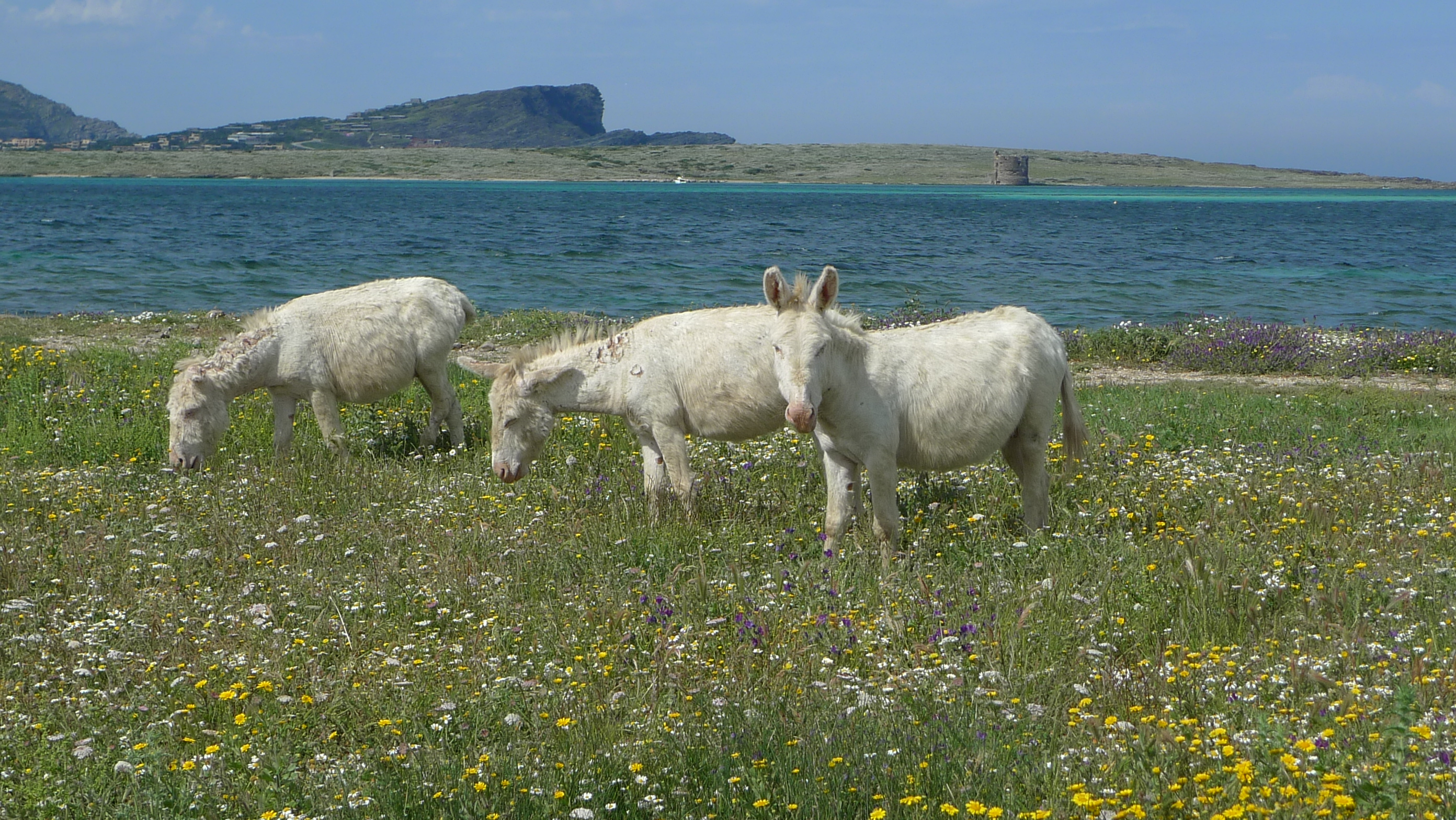 ers and sun worshippers.
Around Porto Torres, some main streets have a side street with spectacular views. Why not just make a step to the side sometimes. Why not just drive topsy-turvy into a one-way street. Oops, contra-flow, okokok…!
Kitesurfing Stintino
I'm arriving in Stintino, a beach resort at Sardinia's north-westernmost end and my starting point of expeditions to Asinara, also known as White Donkey Island (you can find my article about Asinara on pecora-nera).
A good contact for kitesurfer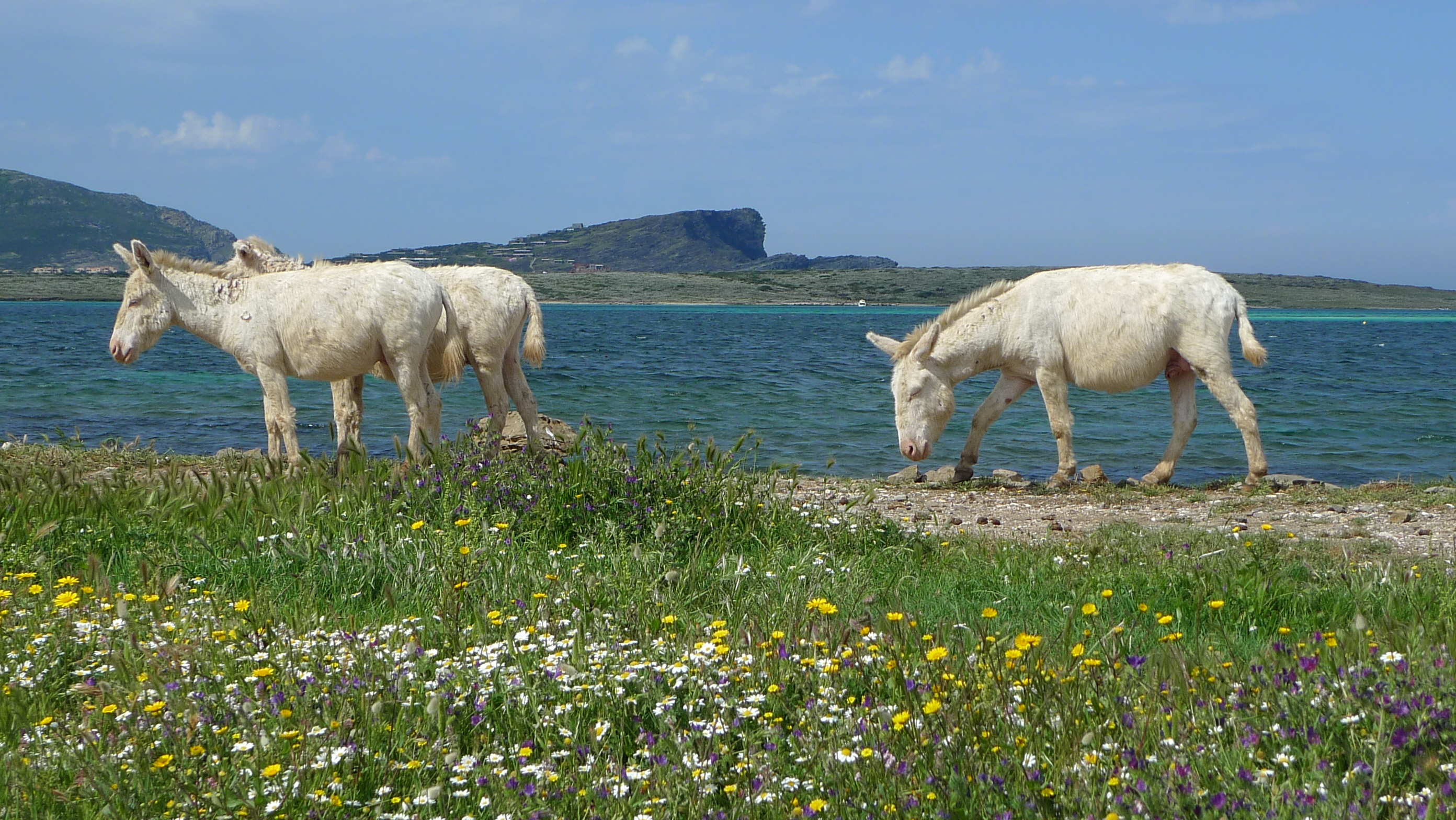 s is Lorenzo from thewindsurfcenter, which is situated at L'Approdo, the middle one of the three kiteable beaches around Stintino.
The best wind directions for L'Approdo and La Pelosa (the main tourist beach a few meters further north) are east to north-east. Easterly (Levante) comes with waves. North becomes north-east or north-west because of Asinara. With west, the beach itself is sheltered. There is a strong current with winds from north-west and west.
Further south you find the super-white gravel beach Le Saline, kiteable with wi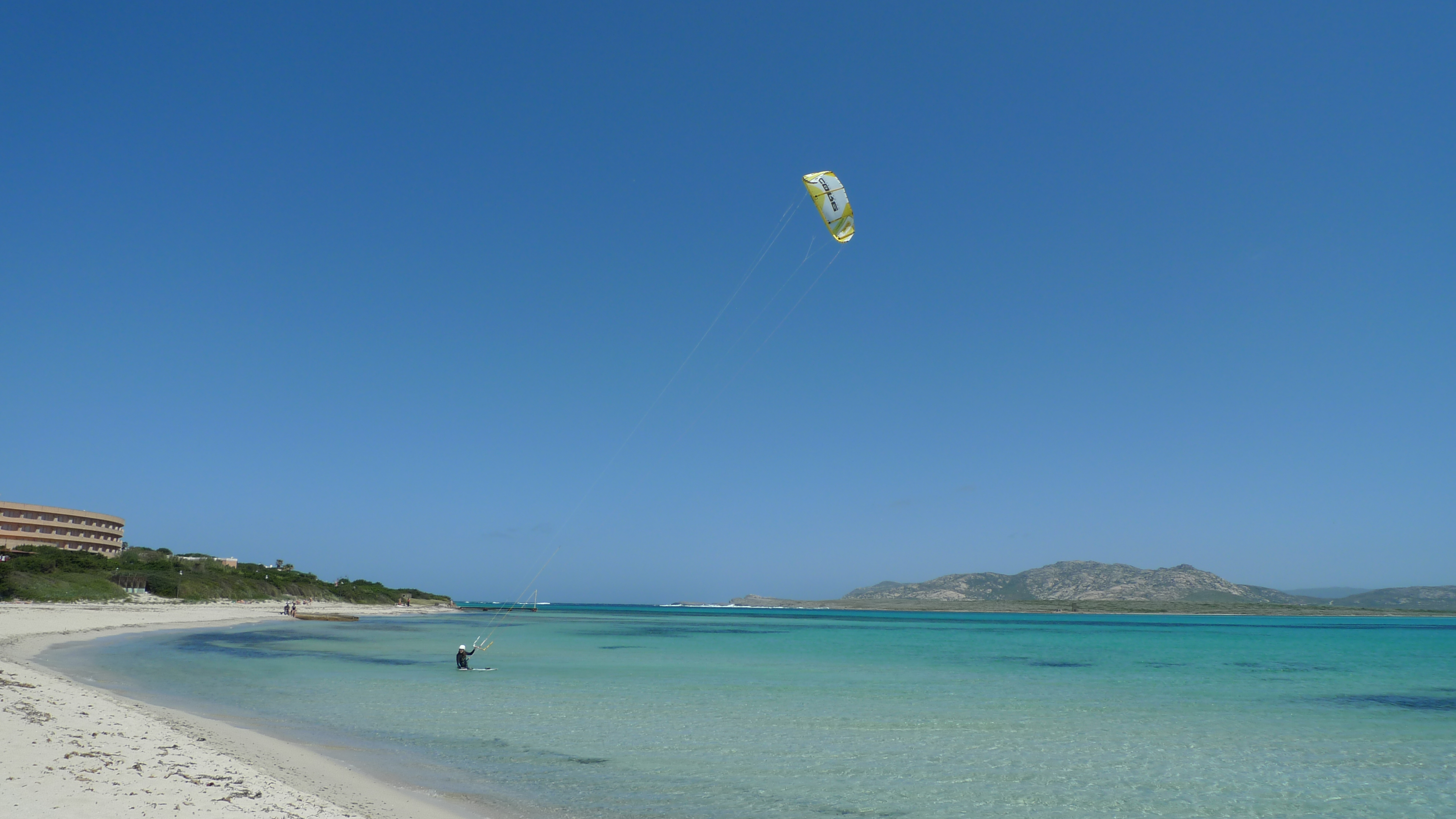 nds from south- and north-west. South-easterly wind does not arrive in Le Saline. The windsurfcenter has a boat to make kite- and windsurfing also possible in tourist-packed summer.
Additional info
The German version of this article can be found on Kiteboarding Sardinia